Posts for tag: teeth whitening
By Riverside Family Dentistry
April 13, 2021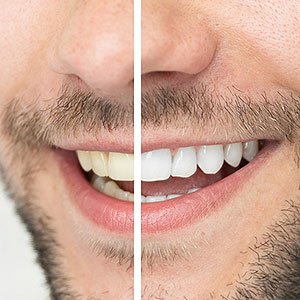 Picture yourself with a beautiful smile…what do you see? Besides straight and uniform teeth framed by the gums, you should also see one other thing indicative of a great smile—your teeth an attractive shade of translucent white.
But as you age your teeth can begin to dull as the enamel loses its translucency and the underlying dentin thickens and yellows. You no longer have the bright smile you once had in younger days.
But if the discoloration is mainly on the outer enamel, teeth whitening could be your answer for regaining your youthful smile. This is a procedure in which we apply a solution containing a bleaching agent (usually hydrogen peroxide) to your teeth. Aided by heat or light to activate it, the solution can temporarily whiten the enamel.
Teeth whitening isn't an exclusive treatment provided by a dentist—there are a number of retail products that enable you to bleach your teeth at home. But there are distinct advantages to having your teeth professionally whitened.
For one, we can control the level of brightness by adjusting the strength of the bleaching solution. This allows you to achieve the kind of look you want—from a more natural and subtler shade to a more dazzling color often called "Hollywood White."
Any external teeth whitening application will fade with time, regardless of whether they're professional or DIY. But a dental office whitening may last longer due to our stronger solutions and curing techniques. And, by caring for your whitening (by avoiding tobacco and food items that stain teeth) and obtaining occasional touch-ups in our office, the shine could last for a few years.
Again, this particular whitening technique only works with outer staining and yellowing. If your discoloration originates from inside the teeth, you'll need a more invasive method. And your teeth should be reasonably healthy before undergoing whitening.
All in all, though, teeth whitening is an easy and affordable way to brighten your smile. It could help you take years off your appearance.
If you would like more information on teeth whitening, please contact us or schedule an appointment for a consultation. You can also learn more about this topic by reading the Dear Doctor magazine article "Teeth Whitening: Brighter, Lighter, Whiter…."
By Riverside Family Dentistry
December 05, 2017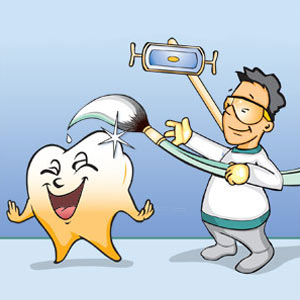 Home whitening kits are a popular way to turn a dull smile into a dazzling one. But these self-applied products only work for teeth with outer enamel stains — if the discoloration originates inside a tooth, you'll need professional treatment.
Known as "intrinsic staining," this type of discoloration most often occurs within a tooth's pulp or dentin layers. There are a number of causes like tooth trauma or tetracycline use at an early age. A root canal treatment used to remove infection from deep within a tooth can also cause discoloration: sometimes blood pigments left after tissue removal or the filling materials themselves can stain a tooth's interior.
Intrinsic staining can often be treated by placing a bleaching agent, usually sodium perborate, into the tooth's pulp chamber. But before undertaking this procedure on a tooth that's undergone a root canal treatment, we want to first ensure the filling is intact and still adequately sealing the tooth from infection. We also want to make sure the supporting bone is also healthy.
If all's well, we access the pulp in the same way as the root canal treatment, and preferably through the same access hole. We then clean out the pulp chamber of any stained matter and then ensure the root canals remain filled and sealed off from the pulp chamber.
We can then place the bleaching agent into the pulp, a process that will need to be repeated every three or four days to achieve the desired level of brightness. After each session we place a cotton pellet over the opening and held in place with a temporary adhesive; we can easily remove and re-apply this covering during subsequent sessions. Once we've achieved the desired color change, we seal the tooth with a permanent filling and restore the access cavity with a tooth-colored composite resin material bonded to the enamel and dentin.
There are other options for an intrinsically stained tooth like veneers or crowns that outwardly cover the discoloration. Internal bleaching, however, is a more conservative approach that causes less alteration of the tooth. If successful, it can restore a stained tooth to a brighter, more attractive shade.
If you would like more information on internal bleaching, please contact us or schedule an appointment for a consultation. You can also learn more about this topic by reading the Dear Doctor magazine article "Whitening Traumatized Teeth."
By Riverside Family Dentistry
October 28, 2017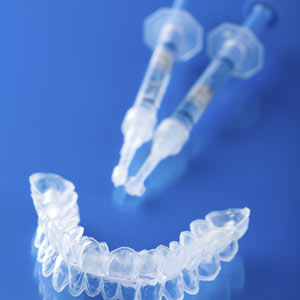 You're satisfied with your smile appearance except for one thing — your teeth aren't as white and bright as you wish they could be. So, you've decided to do something about their dull yellow color.
You're also thinking about buying a whitening product you can use yourself rather than a professional application. But you still want the answers to two questions: are home whitening kits safe? And, are they effective?
By and large the answer to the first question is yes — if you use it as directed. The whitening agents in FDA-approved products are in safe proportions to other ingredients and won't cause any major health issues. That said, if you go beyond the instructed dosage you could damage your teeth, especially your enamel, and cause long-term problems with your dental care.
In addition, if you (or a family member) are still in your early teens, you may want to wait until you're older. Although most permanent teeth have come in by puberty, their enamel still needs to mature. The chemicals in a whitening kit could be too strong for their under-developed enamel. It's best to get our advice on whether your teeth are mature enough for whitening.
As to their effectiveness, home whitening kits should perform as their labeling indicates. But there are some differences in effects between a home kit and a professional application.
Although a home kit usually uses the same whitening agents (like carbamide peroxide), its strength is much lower than a professional treatment — about 10% of volume compared to around 30% in clinical solutions. This means it will take much longer to achieve the desired whitening effect that a professional application can in fewer sessions, and with less precision. In addition, home kits are only effective on surface staining of the enamel — discoloration within a tooth requires treatment by a dentist.
You can get satisfactory results from a home whitening kit. But before you make a purchase, consult with us first — we can advise you on what to look for in your purchase, as well as determine if your teeth can benefit from whitening at home.
If you would like more information on teeth whitening, please contact us or schedule an appointment for a consultation. You can also learn more about this topic by reading the Dear Doctor magazine article "Tooth Whitening Safety Tips."