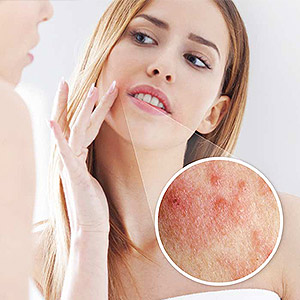 During your latest dental cleaning and checkup, your dentist notices a skin rash around your mouth. You sigh—it's been going on for some time. And every ointment you've tried doesn't help.
You may have peri-oral dermatitis, a type of skin rash dentists sometime notice during dental treatment. It doesn't occur often—usually in only 1% of the population—but when it does, it can be resistant to common over-the-counter ointments.
That's because peri-oral dermatitis is somewhat different from other facial rashes. Often mistaken as acne, the rash can appear as small red bumps, blisters or pus-filled pimples most often around the mouth (but not on the lips), nostrils or even the eyes. Sometimes the rash can sting, itch or burn.
People with peri-oral dermatitis often try medicated ointments to treat it. Many of these contain steroids that work well on other skin conditions; however, they can have an opposite effect on peri-oral dermatitis.
Because the steroids cause a constriction in the tiny blood vessels of the skin, the rash may first appear to be fading. This is short-lived, though, as the rash soon returns with a vengeance. Prolonged steroid applications can also thin the affected skin, making it more susceptible to infection and resistant to healing.
Peri-oral dermatitis requires a different treatment approach. The first step is to stop using any kind of steroidal cream, as well as moisturizers, ointments and both prescription and non-prescription medications. Instead, you should only use a mild soap to wash your face.
You may find the rash looking worse for a few days but be patient and continue to avoid ointments or creams. Your healthcare provider may also prescribe oral antibiotics, usually of the tetracycline family. It may take several weeks of antibiotic treatment until the skin noticeably clears up.
For most people, this approach puts their rash into permanent remission. Some, though, may see a reoccurrence, in which case it's usually best to repeat treatment. With a little patience and care, though, you'll finally see this persistent rash fade away.
If you would like more information on peri-oral dermatitis, please contact us or schedule an appointment for a consultation.